Programs and Events
From events we plan and sponsor or co-sponsor, to programs held in our building, to private rentals, Manchester Community Center is involved in more than 750 programs in our community each year.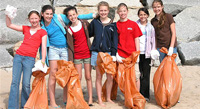 One of the first Saturdays in May is always reserved for the Manchester Community Center's annual town-wide clean up. From families, to scout troops, to individuals, community members across Manchester spend the morning picking up refuse to spruce up our seaside town for the coming summer season. The center makes it all fun – from coffee and donuts in the morning to pizza and prizes at noon, participants enjoy the day, and our town looks great after their hard work!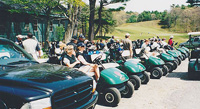 A tradition for more than 10 years, the Manchester Community Center Classic golf tournament is our major fund-raising event for the MCC. Played on the beautiful Donald Ross-designed course at the Essex County Club, the afternoon includes great golf, food, fun and prizes. Support of this event ensures that we will be able to continue offering valuable programs for people of all ages in our community. Come join us for this event!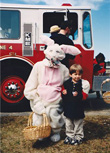 Held each year on the Saturday morning before Easter Sunday, the egg hunt, which is co-sponsored with the Manchester Mother's Club, has become a cherished Manchester tradition. From the pre-view party, balloons, little bunny face-painting and refreshments at the Center, to the Egg Hunt and visit from the Easter Bunny at Masconomo Park, community members of all ages enjoy the fun!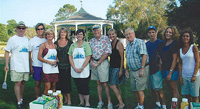 Manchester Community Center board members put on their grilling aprons for this delicious summer happening! In combination with sponsoring one of the famous week night Parks & Rec "Concerts in the Park", the center also serves up grilled food and drinks to attendees of all ages at our town's beautiful harbor view Masconomo Park.

One of our newest endeavors, the used Sports Equipment Sale has been a resounding success for the center. Donations or consignment sport items for all seasons are dropped off at the center on the designated October Saturday morning , and items are then organized and offered for sale in the afternoon. A great way to get that still-valuable sports equipment in your garage to community members who will really use it!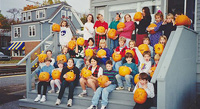 Back by popular demand, our October pumpkin festival is a great opportunity to decorate your own pumpkin at the center. Children of all ages enjoy refreshments and fun as they get ready for Halloween in our community!
Costumed "wobbling goblins" and their adult escorts can't wait for this yearly Community Center/Mother's Club pre-Halloween kids parade to trick-or-treat at local businesses in Manchester. From spectators along the route, to local business owners, to participants, a ghoulishly good time is had by all! Finishing at the Community Center with refreshments and games, the annual Wobblin' Goblin Parade brings our community together to kick off the Halloween season.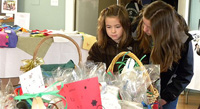 Begun in 2009, this new annual Fair is sure to become a huge success! This is a chance to shop responsibly and to participate in a warm community gathering where vendors offer a unique variety of fair trade goods or products created from renewable resources. Local organizations, businesses, and volunteers donate raffle items, complimentary food, entertainment and craft supervision, to make this combo shopping opportunity/charity fundraiser a wonderful seasonal contribution to our community.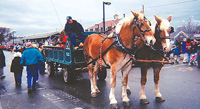 Co-sponsored by the Manchester Community Center, The Chamber of Commerce, and the Manchester Mother's Club, children of all ages look forward to greeting Santa as he arrives by Fire Engine and then by horse drawn cart at harbor front Masconomo Park. Jingle bells are passed out for the walk to beautiful Singing Beach, followed by hot chocolate and coffee, holiday refreshments, and a chance to visit with Santa himself!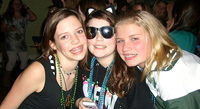 The Manchester Community Center makes a special effort to include teens in our annual events. From chaperoned dances, to teen & movie nights, the center will continue to schedule opportunities for our community teens to come together for fun in a safe environment.
All this and so much more… check our calendar for dates and other upcoming events!